Montessori Organizations

The Association Montessori Internationale was founded by Dr. Montessori in 1929 to maintain the integrity of her work, and to ensure it would be perpetuated after her death.

AMI | USA is the US AMI organization. Among other things, it educates the public about Montessori, organizes conferences on Montessori, coordinates AMI school recognition, and acts as a liaison to the AMI-authorized teacher training centers in the US.
---
Articles, videos and other links
Montessori Story, by Julian Draven.
This article from the November 2011 issue of the local family magazine, Parenting OC, provides a good overview of what Montessori is, and what to look for in a Montessori school.

The Montessori Method: Educating Children for a Lifetime of Learning and Happiness, by Heike Larson.
This free article, written by Heike Larson, LePort's Vice President of Outreach, provides a parent-friendly introduction to the what, why and how of the Montessori Method.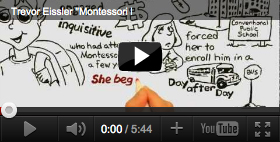 Montessori Madness! This short video highlights a crucial advantage of Montessori education, and it's fun to watch.
---
Helpful books – Montessori and Preschool Education

Montessori Madness, by Trevor Eissler.
A parent-to-parent guide to the Montessori philosophy, written by a jet pilot who discovered Montessori for his children, and became a parent missionary for the Montessori method.
Montessori Read & Write, by Lynne Lawrence.
Shows how to teach children to read and write using Montessori principles. While primarily written for families who homeschool, this book is also a very helpful guide for parents who want to ensure they support their child's progress in literacy and to do so in a consistent manner between school and home.

The Science Behind the Genius, by Angeline Stoll Lillard.
Provides a summary of modern research behind eight insights that are a foundation of Montessori education, describing how each of these insights is applied in the Montessori classroom.

Dr. Montessori's Own Handbook, by Dr. Maria Montessori.
Written by Dr. Montessori, this book provides a concrete description, in Dr. Montessori's own words, of the sequence of activities used in a Montessori classroom.

Maria Montessori: Her Life and Work, by E.M. Standing.
Part biography and part exposition of her ideas, this engaging book reveals through her letters and personal diaries Maria Montessori's delight in the success of her educational experiments and is an ideal introduction to the principals and practices of the greatest educational pioneer of the 20th century.

The Read-Aloud Handbook, by Jim Trelease.
Two books in one: this books starts by explaining why and how reading aloud regularly to children is a key element in fostering literacy. It follows up by providing a helpful 1,000-book treasury of recommended read-alouds. Great resource for teachers and parents alike.

A Parent's Guide to the Montessori Classroom, by Aline D. Wolf.
This guide gives a concise explanation of the method and materials used in the Montessori classroom for 3-6 year olds. An excellent tool for educating parents interested in or new to Montessori.
Helpful books – education

The Talent Code, by Daniel Coyle.
A very readable book on what it takes to become great at any skill, with many lessons applicable to day-to-day learning in schools.
Read more on the LePort blog post, Igniting a Passion to Learn.

Mindset: The New Psychology of Success, by Carol Dweck.
What is the difference between individuals who are eager to tackle new challenges, and to learn from mistakes, and those who give up and don't try when things get difficult? And what can we do, as parents and teachers, to foster the right attitudes in children?
Read more on the LePort blog post, Praise Effort, Not Smarts.

Building Foundations of Scientific Understanding, by Bernard Nebel.
From our recent newsletter: "Dr. Nebel's series of books are wonderful guides we recommend to any parent who wants to take a more active role in her child's science education. They are the only commercially available science program we know of that is largely consistent with how we teach at LePort. They provide a wonderful treasure of information on how to integrate a scientific look at the world into everyday experiences, from preschool through the upper grades."

Drive: The Surprising Truth About What Motivates Us, by Daniel H. Pink.
A book with many implications for teaching well. Pink argues for more autonomy, purpose and mastery in life and in learning.
Read more on the LePort Blog, Drive: Keeping a Child's Love of Learning Alive

The Good School, by Peg Tyre.
A well-researched book lays out the questions parents should ask when evaluating schools for their children. A good primer on understanding what matters in education, and how to become a smarter education consumer.

Why Don't Students Like School, by Daniel T. Willingham.
A cognitive scientist outlines why students aren't engaged in school and aren't learning, and discusses what we can do about it.
Read more on the LePort blog post, Why Don't Students Like School?