A Story of Pursuing a Passion and Passing on Lessons Learned
One of our goals at LePort is helping our students find and live their passions in life. We want to inspire them to apply the knowledge they acquire at school to make happy lives for themselves, or, as our tagline summarizes, we want to equip students with Knowledge for Life.
Our passion is educating children. That's why we are touched that one of our graduating 8th grade students from the Spectrum campus has found a passion in working with our preschool-age students at the LePort Lake campus. Sydney, who has been a student in our upper elementary program, started interning with the Montessori students at the Lake campus last summer, and has continued to visit and work with the children one afternoon a week for the entire past year. She plays with the children, helps them with their afternoon snack, and reads books with them.
Here is what Sydney shared with me recently about her volunteer experience: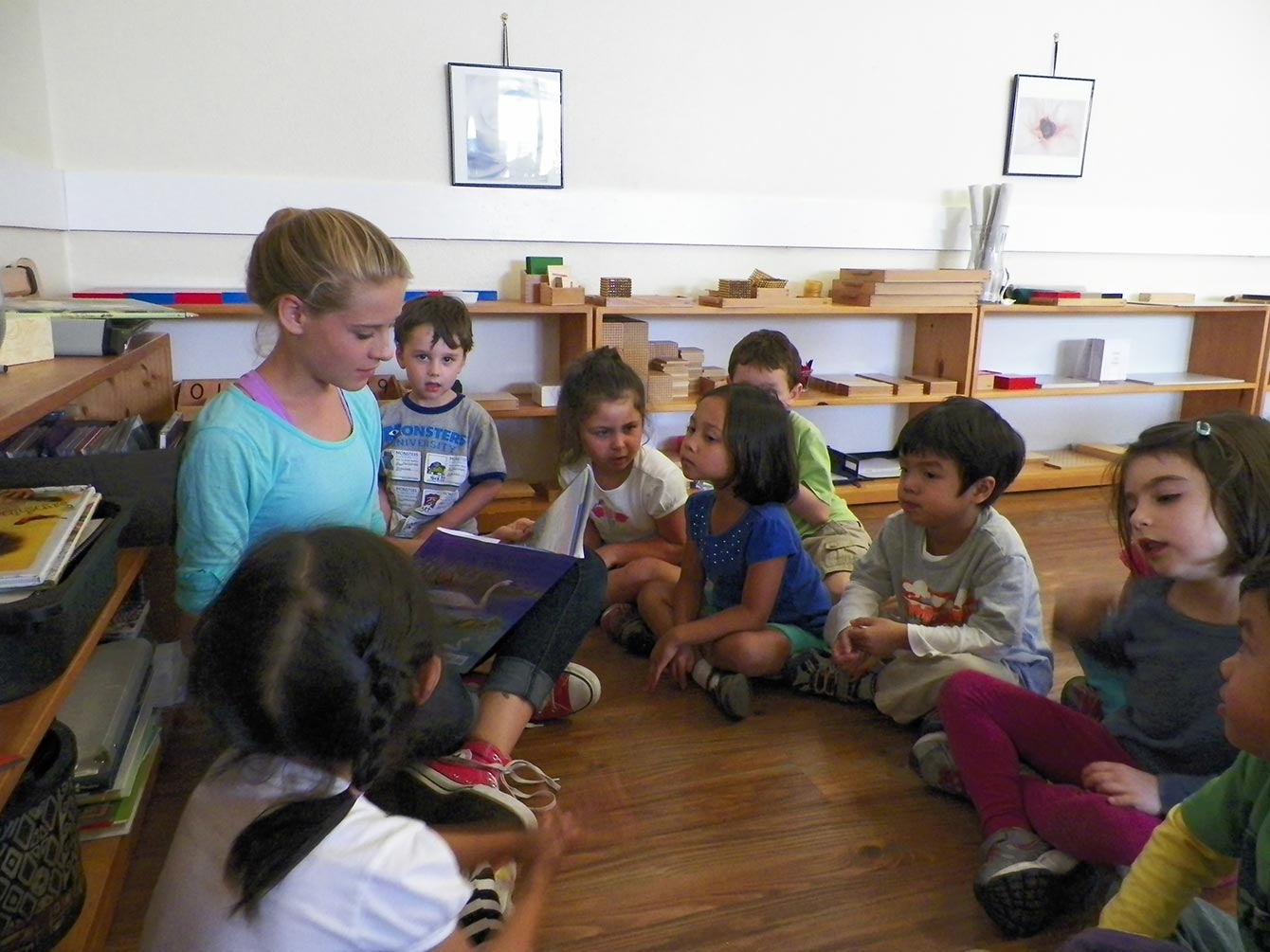 One of my teachers at LePort, Miss Journo, had observed that I really liked being with younger children. So she suggested that I might want to do an internship in the LePort Montessori program—and several of my other teachers also encouraged me to pursue my interest in working with young children.

I've been really excited about being with these two- to four-year old children. They get so excited about small things; they are so eager to learn. Since I've been visiting for a year now, I've been able to witness the children develop and grow up. I met a little girl last summer who joined the program with hardly any English language skills, and I could tell it was a challenge for her; she really didn't have any friends at first. Now, a year later, she speaks English really well, and it's so great to see her play and talk in English with the many friends she has made.

I've noticed that it's easy for these children to relate to me. I think it's in part because they realize I am not that much older than they; they can implicitly feel that I can relate to them, that I am close to their world. It's the same way with us older students and our young, passionate teachers at LePort: having someone just a few years older makes it easy to become relate at a personal level.

I also think I've learned how to relate to the younger children by observing what my own teachers do. Here at LePort, the teachers are expected to get to know each child as an individual, as a person, not just a student. I love that Ms. Longley, my homeroom teacher, really wants to find out who I am, what I like, what my interests are, and that she then uses those insights to make learning more fun and engaging for me. At most schools, this type of personal relationship just doesn't exist!

Now that I am working with the children at Lake, I try to the same thing: I show the preschoolers that I respect them, that I want to find out who they are. There is one boy who is really excited about anything related to construction equipment, and another one who just loves trains, and it's fun to engage them in activities or read them books related to their interests.

Working with children is definitely a passion of mine. I'm not exactly sure where it will take me, or whether it will become a part of my future work, but I'm planning to continue my weekly visit with my little friends at the Lake campus even after I move on to high school this fall. I'm grateful that my teachers at LePort have encouraged me to pursue my interest in working with children!
We're glad, Sydney, that you have found something you love to do, and that you are clearly good at, and we're so happy you'll continue to be a part of LePort with your work at the Lake campus even after you have graduated!
https://www.leportschools.com/wp-content/uploads/2013/09/1-montessori-preschool-san-francisco.jpg
536
1340
LePort Montessori
/wp-content/uploads/2017/07/leport-montessori.png
LePort Montessori
2013-09-18 11:16:39
2017-09-12 09:00:13
A Story of Pursuing a Passion and Passing on Lessons Learned