Montessori infant care or nanny? How to choose which childcare option is right for you.
Finding the right childcare for your baby is one of the most important decisions you'll make as the parent of a young infant. Often, the choice is between childcare in your own home—a nanny or an Au Pair—or care in a childcare center or home-based childcare setting. Here is a list of pros and cons, as you consider whether to opt for LePort's Montessori infant program, or a childcare arrangement with a dedicated provider coming to your home.
Advantages of the LePort program over a nanny or Au Pair: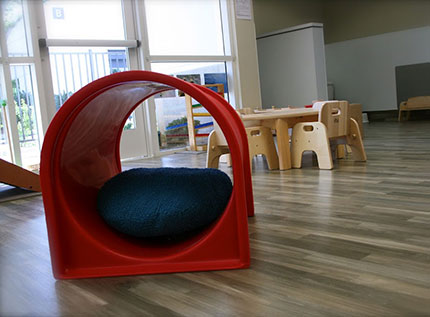 A trained professional to guide and nurture your child. Most in-home childcare providers have little if any formal training in guiding young children. They may have completed a few courses, and taken CPR training, in the case of younger sitters or Au Pairs. Or in the case of some nannies, they may have had years of on-the-job childcare experience. But few full-time nannies are college graduates, and even fewer have completed a rigorous course of study in child development. LePort's lead infant teachers, in contrast, are college-educated, intelligent professionals, who have completed a year-long, advanced program in Montessori education for children ages 0 months – 3 years. They have studied child development, practiced working with infants under the careful supervision of experienced AMI teacher-trainers, and have completed teaching internships in a Montessori infant or toddler pogram. And they've been evaluated by LePort on a range of criteria, from expressive vocabulary to genuine warmth and caring for children. As a result, our infant teachers are not mere childcare providers: they are trained guides and teachers for babies.
An environment that is optimized around a baby. A home is a beautiful place, but unless you are able to set aside an entire room for your baby and equip it with special furniture and a wide range of materials, it remains a space designed primarily around the needs of adults. There will be many things baby can't touch; many things baby can't reach; many objects that are hard to child-proof perfectly and still be useful for adult purposes. In contrast, LePort's Montessori infant environment is designed entirely around the needs of babies. Mirrors go to the floor. Special small stairs with rails invite babies to crawl and climb. Soft floor mats cushion falls. Low shelves abound, and on them are placed materials carefully selected to help babies explore safely with all their senses. Miniature tables and chairs allow children to have a meal together; and even the toilet is baby-sized.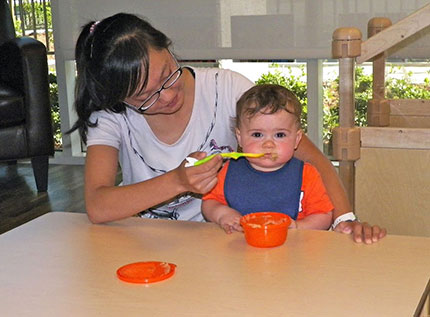 A valid, consistently implemented, transparent approach to child rearing. Most new parents don't have a well-formulated approach to all the many challenges of raising a newborn. When a nanny or other childcare provider comes in the house, her approach often becomes the de-facto standard for handling the baby. Unfortunately, what the nanny does may not be in line with best practices: for example, few childcare providers understand all the many ways in which an infant's independence needs to be developed, and do things to the child (feeding, dressing, diapering), rather than helping the child do for himself as soon as he's capable. Of course, a parent who knows exactly how she wants to bring up her baby, and who has a lot of time, can select and guide a childcare provider (nanny, Au Pair) to follow the right approach. But unless you have that knowledge and the willingness (and time!) to provide this coaching, you may be better off finding a program like LePort, where you understand and agree with the fundamental approach.
Socialization & community building. When your child is home alone with a nanny, his opportunities to observe and interact with other children are limited to excursions to the park or an occasional baby class with the nanny or with you. In contrast, in the Montessori infant program, young toddlers learn how to interact with each other in a civilized way. If socialization is one of your goals for your child, a nanny as childcare is probably not the best option.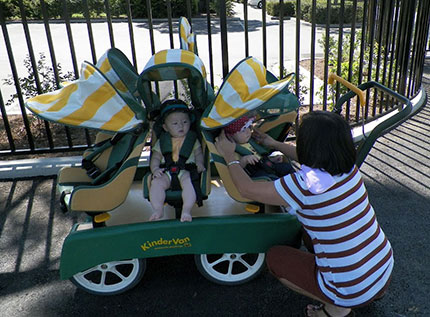 A reliable childcare solution, independent of one person's health or family issues. If you work full time, and your nanny calls in sick, you may have to take time off. In contrast, with LePort's program, we guarantee childcare for your child: when one of our teachers is sick or has to leave on a family emergency, we have floaters on staff, so you don't need to stay home from work to cover your childcare provider's absences. Plus, our floaters give your child's primary childcare provider regular breaks, so she can be cheerful and patient all day long, instead of getting tired by being on duty for 9+ hours without breaks.
A guaranteed spot in LePort's highly sought after preschool program. LePort's preschool programs are in high demand and usually have long waiting lists. At some of our locations, the only way to get into the preschool program is by starting early. Enroll your baby now for childcare, and you'll have priority enrollment, for preschool and beyond!
Much lower cost than a nanny, for 5 full days of care. LePort's infant program pricing reflects the quality and care that have gone into the program design, the 1:3 ratio, and the highly qualified teachers who guide our youngest students. Still, for 9+ hours of childcare per day, five days a week, the LePort program is about half to two-third the cost of an experienced nanny or other in-home childcare provider.
When a nanny or Au Pair may be the better childcare solution: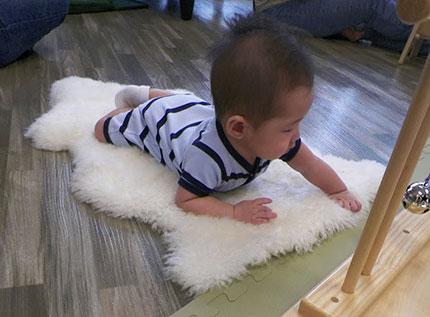 If you work from home and can see your child regularly throughout the day. If you work from home, and have a flexible schedule, a nanny gives you the ability to see your child during the day. Those breastfeeding breaks together, a quick stroll in the neighborhood or the opportunity to read a book together are great daily joys that a childcare center setting just cannot provide.
If the lack of a commute is more convenient given your particular situation. For instance, if your home and work are far from one of LePort's infant program locations, it may just be more convenient to have a childcare provider come to your house, rather than having to drive to our schools to drop-off and pick up your baby every day.
If you don't share LePort's approach to early childhood education, and want a nanny with a different style of childcare.
If you want your child's primary caregiver to speak a language other than English with your child. (In this case, you may also want to look into LePort's language immersion programs, which begin at 18 months old.)
If you have two children to care for, a nanny may be a significantly cheaper childcare option. This is especially a factor for families with twins—although LePort does offer a sibling discount!
https://www.leportschools.com/wp-content/uploads/2012/09/Montessori-Infant-Care-or-Nanny-e1359611927478.jpg
512
1273
LePort Montessori
/wp-content/uploads/2017/07/leport-montessori.png
LePort Montessori
2012-09-18 22:08:02
2017-09-12 09:00:15
Montessori infant care or nanny? How to choose which childcare option is right for you.