Transitioning to Montessori: Independence (Part 1 of 5)
Every fall, children transition to our Montessori programs from other preschools or elementary schools. What can parents do to help with this transition? In this series of blog posts, we lay out a few Montessori principles that apply at the later preschool and early elementary school level. Our focus is on children who transition into Montessori during their kindergarten through 2nd grade years, but many of the ideas suggested here are helpful for preschool children, too.
"Little children, from the moment they are weaned, are making their way toward independence"
"Never help a child with a task at which he feels he can succeed."
— Dr. Maria Montessori
If your child will be transitioning into a Montessori school late into the preschool/kindergarten program, or straight into Montessori elementary school, it is helpful for you as a parent to understand what your child would have experienced had he been in the program in earlier years.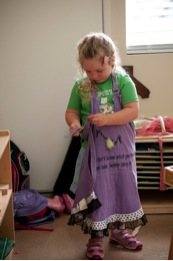 The goal of the Montessori preschool experience is to help children help themselves. "All by myself" is and ought to be the theme of a toddler's life, and in the right environment, this motivation to be independent becomes the basis of tremendous learning. Montessori preschools, by satisfying the child's need to be independent, help him acquire skills of daily living in a careful, step-by-step sequence that sets them up for success and earned self-esteem.
It starts with something as simple as enabling toddlers to manage their own snack routine. They start out by learning to lay out a napkin and a small cup. Before long, they are able to set the full table, serve themselves by scooping raisins and pouring water, and clean up the table, put away dishes and sweep up crumbs. Rather than being a passive recipient of snacks, a child learns to satisfy his own needs.
Preschool children in Montessori have the opportunity to do many tasks that other children are not entrusted with until much later. For example, they peel and cut fruits and vegetables, using real knives. They prepare and serve snack to their peers. They cut and arrange flowers and are in charge of taking care of classroom plants and pets.
As these preschoolers become more capable, they relish taking on more responsibility. At school, they take ownership of cleaning up classroom shelves, without being asked, and also teach these same skills and habits to younger friends. At home, they may be entrusted with preparing their own lunches, or being real contributors to family chores.
If a child transitions to Montessori as a 5-, 6- or 7-year-old (i.e., late in preschool or early in elementary school), he may not have had these same experiences. And, maybe more importantly, his parents may not have received coaching on how to foster this type of independence at home.
The best solution, if your child is in this situation, is to start now! Think about what things you may be doing for your child that he could do alone, if you made some slight adjustments to your routines and gave him some extra initial support.
Here are a few ideas to support independence for kindergarten age or early elementary school children (useful whether or not you enroll them in Montessori for elementary school!)
In the kitchen.

Provide your child with a low shelf or drawer with his own utensils, so he can set his table. Make this a daily responsibility.
Set up healthy food choices on low shelves in the pantry and refrigerator: jars with cereal, a basket of fruit, cut-up veggies in a bowl, a small pitcher with milk or juice. Invite your child to help himself to a healthy snack when he is hungry!
Invite your child to help you with food prep. For Small Hands carries a great selection of child-sized implements, from vegetable peelers to cutting boards and aprons. 5- or 6-year-olds can do a lot of food prep, from peeling apples to cutting carrots, from measuring out flour to flipping pancakes!
Enable your child to clean up after himself. Set up a child-sized broom & dust bin, a small bucket, a scrubber and a sponge, and ask your child to clean up around the table after eating.

In the bedroom, bathroom and laundry room.

Ensure your child's closet is child-friendly. Make sure he can access all his clothes easily. Limit choices to those appropriate for the season and day-to-day activities (put away special occasion clothes, unless you are ok if your child wears them every day!)
Organize things so your child can do his own laundry. Get a two-compartment hamper for easy clothes sorting. Show your child how to manage the washer (including pre-treating stains!) Show him how to fold & put away laundry.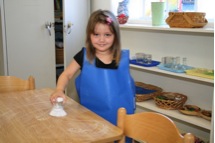 In his Montessori elementary classroom, your child will have an increasing amount of responsibility. He'll have the opportunity to keep his own work organized, take care of classroom plants and pets, and help keep the general classroom organized. He'll learn how to be in charge of his own academic activities, planning out his daily and weekly tasks, and taking the initiative to reach out to teachers and friends for help when he needs it.
Giving your child more independence at home will help get him ready for this new environment of freedom within limits (more on that in the next blog post here.)
Read more in our Transitioning to Montessori blog series:
https://www.leportschools.com/wp-content/uploads/2012/07/Transitioning-Independence-e1359612937906.jpg
508
1273
LePort Montessori
/wp-content/uploads/2017/07/leport-montessori.png
LePort Montessori
2012-07-03 21:52:34
2017-09-18 10:13:05
Transitioning to Montessori: Independence (Part 1 of 5)