How to Apply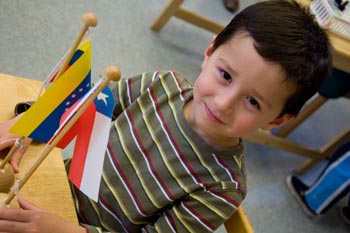 If you are interested in enrolling your child in the Spanish preschool program, please call the Huntington Harbor or Irvine Spectrum campus to schedule a tour and a one-on-one meeting with the Head of School. For the Mandarin Chinese immersion program, please tour at any of our Irvine campuses; mention that you are interested in Chinese immersion as you schedule the tour.
Once you decide to enroll, please download the application below to review tuition and schedule information. Note immersion tuition carries a $175 premium over the English program tuition, at all program levels.
Download the application: Huntington Harbor Spanish Immersion Application
---
Eligibility
For our Montessori Spanish immersion, we currently enroll children between the ages of 18 months and 3 ½ to 4 years for immediate start at our Huntington Harbor campus. By fall 2014, the Harbor campus will expand to also offer a Spanish immersion elementary program for 1st through 3rd grade. Our Spanish program at the Irvine Spectrum campus will welcome children as young as 12 weeks and up to 4 years old, to start in September 2014. The Mandarin Chinese program in Irvine will launch in September 2014, with children ages 18 months to 4 years.
Often, children start either in our toddler program, or enroll in the multi-age Montessori preschool room as 1st year students. Older children, including those seeking admittance to the new elementary Spanish immersion program at the Huntington Harbor campus, are admitted on a case-by-case basis; generally, they will need to have some background in Spanish/Chinese and/or strong parental and family support in Spanish/Chinese to enroll after the age of four.
The immersion Montessori preschool program is aimed at children who have some English language background at home: At least one parent should be able to speak English at home, and commit to speaking and reading in English daily with your child at home, especially if your child is an infant or toddler and has limited exposure to English in the community.
We welcome children with Spanish or Chinese knowledge into the program. Just note that our Spanish and Chinese immersion preschool program are not designed for native Spanish-speakers who will not be able to learn English outside of school; those children may be better served in our English-language Montessori classrooms, where they can complement their strong Spanish/Chinese from home with English language skills. If you only speak Spanish or Chinese at home, one option to consider is starting your child in our English infant or toddler program, to give your child a strong grounding in English. Then, when your child turns three, she can move on into the Spanish or Chinese immersion track. In either case, we encourage you to meet with a LePort Head of School, to discuss your family's unique circumstances, and to develop a plan that is tailored to your child's needs.
Our Spanish and Mandarin immersion program is designed with a full three-year Montessori cycle in mind; that is, it extends until your child has reached the age of 6 (this includes the traditional kindergarten year). This ensures that your child is in the Spanish/Chinese immersion program long enough to acquire not only strong Spanish/Chinese skills but also to learn the fundamentals of English literacy: As the first few years focus strongly on the target language, it's important to stay for the 3rd program year, where we invest significant time in English written language skills.
---
Program Parameters and Schedule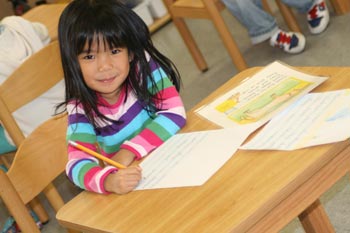 To enable children who do not speak Spanish or Chinese to acquire an ability to not just understand but also speak Spanish/Chinese, we put in place a full Spanish or Chinese preschool immersion environment, where both teachers in the classroom speak only Spanish (or only Chinese) with the children for a large part of they day.
Younger children experience Spanish or Chinese completely during the academic day (8:30 am – 3 pm) and will only interact in English at school if they stay for day care before or after the core Montessori preschool day. Older children, once their Spanish or Chinese skills have solidified, will receive some instruction in English (from a few hours to several afternoons a week). This afternoon English instruction focuses on acquiring literacy skills in English.
Our full Spanish or Chinese immersion environment enables children to gradually transition from speaking in English/understanding Spanish or Chinese (i.e., having passive language skills) to naturally speaking in Spanish or Chinese (i.e., having productive language skills or "fluency").
Children who enter our program naturally speak in English, their native language. In the Spanish immersion Montessori preschool class, teachers will consistently respond to children in Spanish and give lessons in Spanish; similarly, in the Mandarin Chinese environment, all the interactions will be in Chinese. As children speak to teachers in English, teachers will provide the Spanish or Chinese expressions and encourage children to repeat back in Spanish. Experience shows that in an immersion preschool class, over time children naturally switch to speaking in the target language: when they have mastered the Spanish or Chinese vocabulary needed to express their needs and thoughts, they naturally want to use their new, exciting language!
We do not force children to speak in Spanish or Chinese. Ever. We want Montessori preschool to continue to be the joyous, natural environment it is in any language. In every one of our Montessori classrooms, a child's voice is valued, whether he is speaking English, Spanish, Chinese, or another language. We know that the child has an inner desire to use his new words, so there's no need to rush his progress and destroy that personal development. All children will communicate in their nascent second language, but all children will not do so at the same time — and in our school, that's ok!
---
Language Development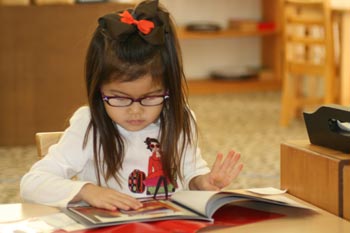 In the Spanish or Chinese immersion Montessori preschool program, our goal is to help your child acquire strong Spanish/Chinese skills. By the end of the 3rd year in Montessori preschool (the equivalent of traditional kindergarten), we aim to enable your child to:
Understand age-appropriate Spanish or Mandarin Chinese.
Sustain age-appropriate conversations in Spanish or Chinese with teachers and peers.
Acquire a starting level of literacy in Spanish; that is, be able to decode age-appropriate readers and write short, simple sentences in Spanish. For the Chinese program, children will learn the basic strokes that make up Chinese characters; third year students who have mastered English at a solid phonetic level will also be introduced to Pinyin, the phonetic alphabet used in China to help children learn to read.
All these goals assume that your child will join the Spanish/Chinese immersion preschool program by age 3 and stay in the Montessori preschool classroom until age 6 (that is, through the 3rd year in the Montessori preschool cycle). Of course, children who join late or leave before the 3rd year may not be able to achieve all of these goals.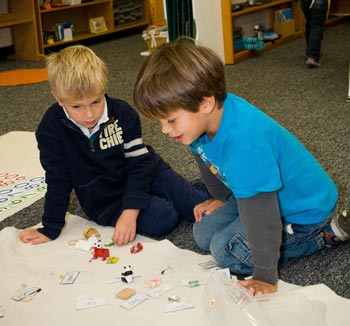 As children learn a second language, it is normal for them to at times mix languages. We encourage parents to read up on language development in bilingual children — see resources here.
Because the immersion preschool program focuses on building Spanish/Chinese language and literacy skills first, your child's literacy skills in English may lag initially in comparison to his peers in our English-speaking Montessori preschool rooms. Rest assured, though, that he will stay on or ahead of track in English compared to children attending play-based or traditional preschools. And this lag disappears as he enters adolescence.
Later introduction of reading and writing in English. In the Spanish immersion preschool program, we may not introduce your child to writing and reading in English until the 3rd year in Montessori preschool (i.e., the kindergarten year). Instead, children may learn letter-sound associations, letter shapes, and decoding/blending in Spanish first. Thus, a 5 ½ year old Spanish immersion preschool student may not be able to decode simple English books yet, while her peer in the English Montessori preschool class may be already reading, for example, Books to Remember titles. In the Mandarin Chinese immersion program, however, we introduce English letters and sounds in parallel to Chinese characters, starting as young as age three or three-and-a-half: Dr. Montessori identified a sensitive period for learning the sound-letter association, and we want to ensure that children in the Chinese track do have the same joyful experience with the Sandpaper Letters that their English- and Spanish-program friends have.

Delayed mastery of advanced English reading skills. Because we introduce English reading later, we may not be able to complete the Montessori phonogram program during the preschool years. While many (but not all) English-only Montessori preschool students can read regular books by the end of the kindergarten year (i.e., they read at a 1st or 2nd grade level), a typical Spanish or Chinese immersion preschool student can expect to read at grade level in English (that is, be able to decode phonetically controlled text with no or limited multi-letter phonograms). He will be well prepared to enter a normal (public-school) 1st grade program. If he continues on to our English-language Montessori lower elementary, he may need some extra time to catch up to his mono-lingual peers in English written language skills, a process which our Montessori teachers will, of course, support actively.
Starting in September 2014, we will also offer Spanish in our Montessori Lower Elementary program in Huntington Beach, to provide our students with an opportunity to continue their Spanish language development through the early elementary years. Please contact the Huntington Harbor campus to learn more.