How to lay the foundations of literacy in preschool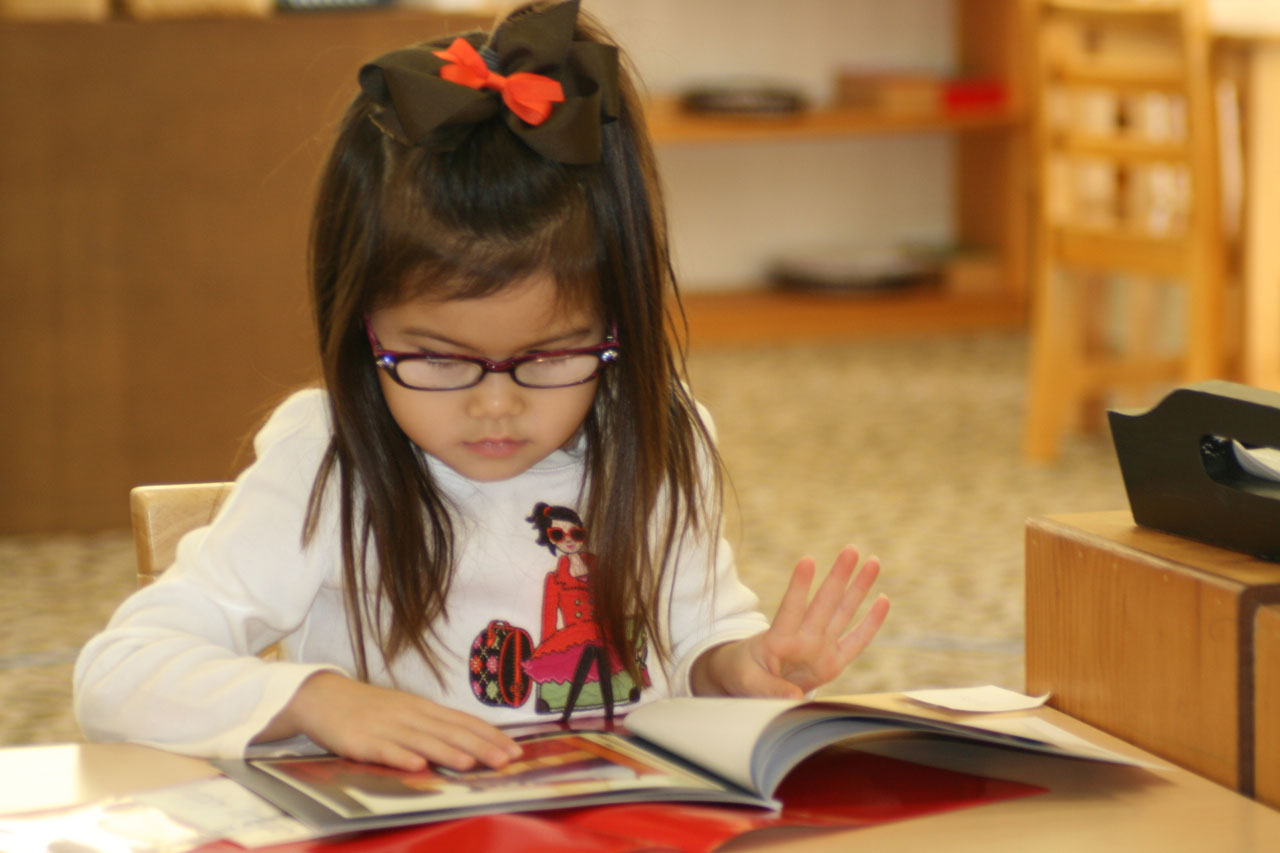 What differentiates a child that learns to read joyfully, becomes a voracious reader and succeeds academically, from one that struggles to read at grade level, and falls behind?
Decades of research provide a clear answer: for a child to become a reader, he needs three things (1) instruction in phonics, (2) a systematic way of building a store of "background knowledge" to help him make sense of what he reads, and (3) an early start to reading, definitely during his first six years before he enters Kindergarten.
Our preschool program at LePort provides your preschooler with all of these. We start pre-reading skills in our toddler program, and throughout make learning to read enjoyable for your child, so he will become a capable, eager reader by the time he graduates from the 3rd year in preschool/primary (the equivalent of traditional Kindergarten.)

What makes the Montessori approach to learning to read and write so effective? And why and how is it different from the way literacy is approached in other preschools and elementary schools? Here are five key highlights of what we do at LePort:
Teach "phonemic awareness" early and playfully. Research tells us that one fundamental difference between children who learn to read easily and those who don't is that "the former can discern individual words in sentences and sounds within those words. … The ability to discern sound seems to reflect some basic difference in neurological wiring." The good news is that these critical phonemic awareness skills can be taught. At LePort, toddlers play "sound games", where the teacher guides them to isolate the "d" sound at the beginning of "dog." Slightly older preschool students pick out an object from a tray based on its beginning sound. And preschool children as young as 3 or 3 ½ year old learn to associate these sounds with the corresponding letters, as they say the sounds while they look at and trace "Sandpaper Letters." (This sound-focused approach is in sharp contrast to most preschool programs, which teach letter names, a la the ABC song, which do not help children learn to read!)
Break skills down into a careful sequence of steps. A key success factor for teaching preschool children is to make the process of learning rewarding. In our preschool classrooms, children have many opportunities to learn component skills of writing and reading through activities they enjoy. They learn to control a pencil as they create artwork by coloring in geometric shapes with the "Metal Insets." They sit down on the floor and "build words" using the "Moveable Alphabet." They take a box of small objects, and engage in independent reading, by decoding little labels and placing them next to a fan, a cup or a dog as they work with the "Phonetic Objects Box." No worksheets here, no boring drills, no rewards or punishments; just joyous, child-chosen, purposeful learning!
Teach writing first, then watch for the "explosion into reading." Writing is putting symbols together to form words, and it is a more natural process than reading, more akin to speaking, where we put sounds together to make words. That's why, in Montessori preschool, students build words with small moveable letters, before they read. Then, usually between age 4 and 5, comes a moment of beauty, when the child discovers he can make sense of the black scribbles on paper: he "explodes into reading", in a joyful, natural discovery of his own capabilities.
Immerse children in a language-rich environment. Study after study show that a strong vocabulary at age 3 or 4 is a predictor of reading success later on: "The three-year-old test subjects who had the highest rates of vocabulary growth turned into third graders with the strongest language skills and highest reading comprehension." That's why language development is everywhere in our classrooms: teachers read aloud to students daily, and students learn vocabulary in carefully structured "three period lessons" all over the classrooms, from colors to shapes, from naming dimensions, to learning the names of animals for toddlers, and the names for the parts of animals later on.
Guide children carefully from decoding to reading for meaning. English is a complex language: the 26 letters of the alphabet are used to represent 44 different sounds, which can be spelled with over 70 phonograms, or multi-letter combinations, such as "ck" or "oo" or "igh." Because of this complexity, children need explicit instruction in deciphering the "advanced code", as well as appealing, yet deliberately controlled reading materials that allow them to enjoy reading as they gain practice. That's why our Montessori program offers many ways of practicing reading "phonogram words". It's also why we have recently invested tens of thousands of dollars in designing and implementing an outstanding reading program called Books to Remember to all of our primary classrooms, going much beyond what even other high-quality Montessori programs offer.
Does it work? Here's what one LePort preschool parent says:
Every day at preschool is a learning process: my children are never bored. Early on, my daughter came home all excited about the sandpaper letters – and I didn't even know what they were. But now, with the help of the sandpaper letters, my daughter writes in beautiful cursive: she writes all the birthday and thank you cards for the family, and she's just 6 years old!

This summer, before my daughter started in 1st grade, she was reading the Wizard of Oz by herself. She would stumble over some of the big words, of course – but she read the whole book! And it's not just that she reads, and how advanced she reads: it's the way she reads, her clear pronunciation, the expressiveness of her reading: it's almost perfect. And I think a lot of it is due to the Montessori Method: they learn the letter sounds, not the letter names. At first, I was concerned that she didn't know that "A" is called "Aye"- but when they start reading, it really makes sense to just do the phonetic sounds. It's hard to believe: my daughter is reading real books, fluently and with expression – and she just turned 6 in April!

Preschool Parent
The most exciting part of this, of course, is that it is also possible for your child.
https://www.leportschools.com/wp-content/uploads/2013/01/Post-4-key-photo-e1359502540499.jpg
512
1276
LePort Montessori
/wp-content/uploads/2017/07/leport-montessori.png
LePort Montessori
2013-01-29 23:34:27
2017-09-12 09:00:14
How to lay the foundations of literacy in preschool