Books Children Love – LePort 2012 Suggested Books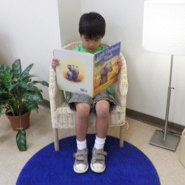 Colder days are upon us, and the outdoors are not quite as welcoming. But as the dark comes early, so does the opportunity to cuddle up with our children in a favorite spot and explore the timeless treasure of great books.
At LePort, we are big believers in the power of literature. Beautiful, inspiring literary works help children become voracious readers who look to books for enjoyment as well as education. Whether it's a 3-year-old enraptured as a teacher reads to her, a 5-year-old reading to a younger child, or a group of 8-year olds engaged in animated discussion about a read-aloud character, we love seeing our students discover the joys that await them in the pages of a good book.
As a parent, you can help your child discover the joys of reading. In looking for that perfect gift this holiday season, we offer up the list below of favorite books, from simple picture books for toddlers and younger preschool children, to more elaborate stories for older primary students, and beginning chapter books that elementary students can read by themselves.
This is our third holiday book list, and we plan to make it a yearly tradition! You can help us by sharing your favorite books for this age group in the comments: maybe you'll see them in next year's list.
P.S. If you aren't yet sold on reading out loud daily to your child, or want an even broader range of book recommendations, check out reading advocate Jim Trelease's web site. He has free excerpts from his Read-Aloud Handbook with helpful advice, and lots of ammunition on why reading aloud is so important.
https://www.leportschools.com/wp-content/uploads/2012/12/Books-Children-Love-e1359611667641.jpg
512
1276
LePort Montessori
/wp-content/uploads/2017/07/leport-montessori.png
LePort Montessori
2012-12-06 05:30:24
2018-05-09 14:17:21
Books Children Love – LePort 2012 Suggested Books