At gathering of parents who are interested in our Montessori preschool programs we often hear questions like this one that a father who seemed impressed with Montessori asked: "But what about creativity? I get that the environment in your classrooms helps build important executive functioning skills, and that the academics are strong. But will all the structure in Montessori it stifle my child's creativity?"
This father's question spoke to an important educational issue: A recent poll of 1,500 CEOs identified creativity as the most critical leadership skill, one which, for the first time ever, has been in decline in the US since the 1990's.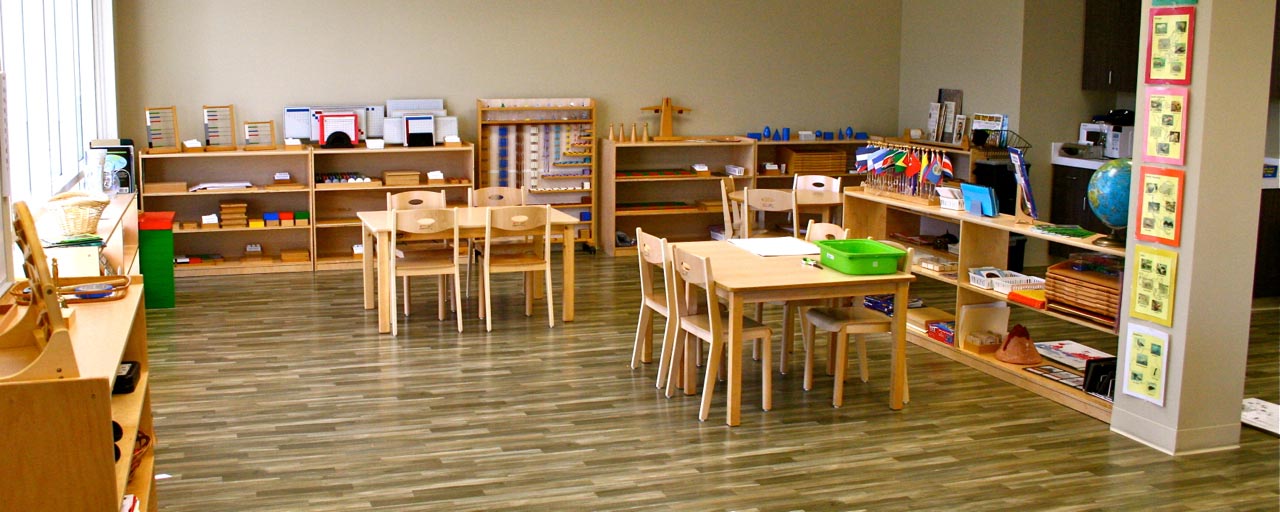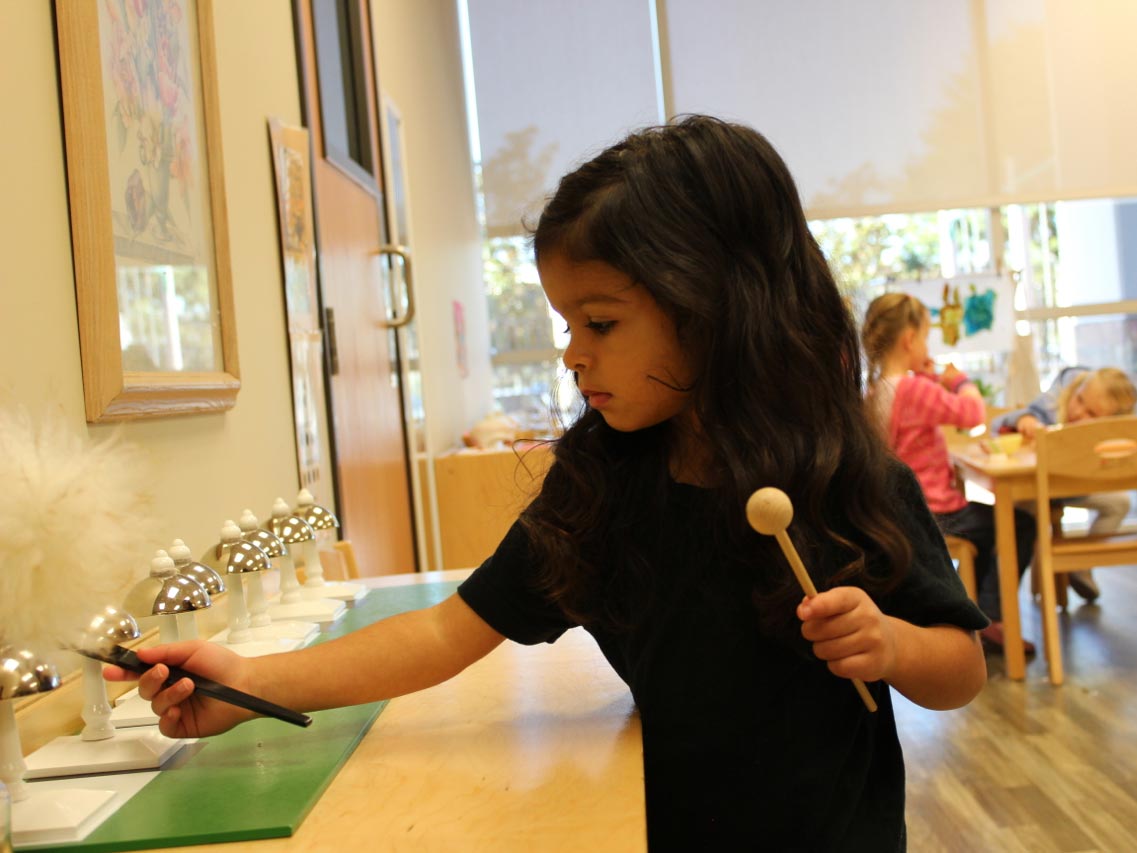 This father's concern is plausible. At first glance, a Montessori preschool or elementary classroom doesn't scream "this is a creative space." Experts do not come in to offer specialized art classes during the school day. Children's creative expression is not prominently on display along the walls. The classroom atmosphere is calm, orderly, and a touch zen-like; there isn't a messy art zone in sight, nor are there lots of unstructured toys or pretend play materials out and about all over the room. The Montessori preschool materials, while esthetically beautiful and inspiring, are designed to impart certain specific skills, in a very definite manner: the ability to identify colors by lining up the Color Tables in a careful gradation, to perceive and match tones of music by comparing the tones made by the Montessori Bells, to control a pencil by carefully coloring in the Metal Insets with parallel lines.
Yet we who advocate for the Montessori preschool see it as the paradigm of a creativity-nurturing approach. The reason is that we don't agree with the conventional view that creativity comes from opportunities to engage in momentary, spontaneous bursts of expression. We agree that this is often how creativity manifests itself, and we celebrate such expression—but we think the capacity for creative output has an entirely different source: the ability to naturally and repeatedly apply one's knowledge and life experiences to the problems that capture one's interest.  While creative output often resembles and feels like an inexplicable lightening bolt from the sky, it is made possible by a rich base of accumulated experiences, knowledge, and values, and by the capacity to engage in motivated, self-generated action in pursuit of a goal. 
Sir Ken Robinson, author of Out of Our Minds: Learning to Be Creative, points out three common misconceptions about creativity:
Creativity is not learned, but innate: those who are creative have a special inborn skill that others just cannot acquire.
Creativity is limited to specific areas, like the arts.
Creativity is about spontaneous free expression not involving any skill base.
He argues that these assumptions are false: that we can all learn to be creative, that creativity is everybody's business, applicable to engineers just as it is to artists, and that creativity requires the application of unique insights to solve a problem in a new way, drawing on relevant facts and skills of the creator. He holds that children are born to be creative, but that traditional education, with its focus on memorization, standardization and testing, kills their creative potential.
Montessori preschool supports the development of creativity at much more than just a superficial, finger-painting level. (There's absolutely nothing wrong with finger painting—our point is just that it's not the primary way to nurture a creative capacity.). Montessori—from infant and toddler daycare through middle school—allows the child to slowly develop himself, to become an individual capable of meaningful, motivated thought and action as he grows, free from the destructive constraints of traditional education. Here's how Montessori fosters creativity: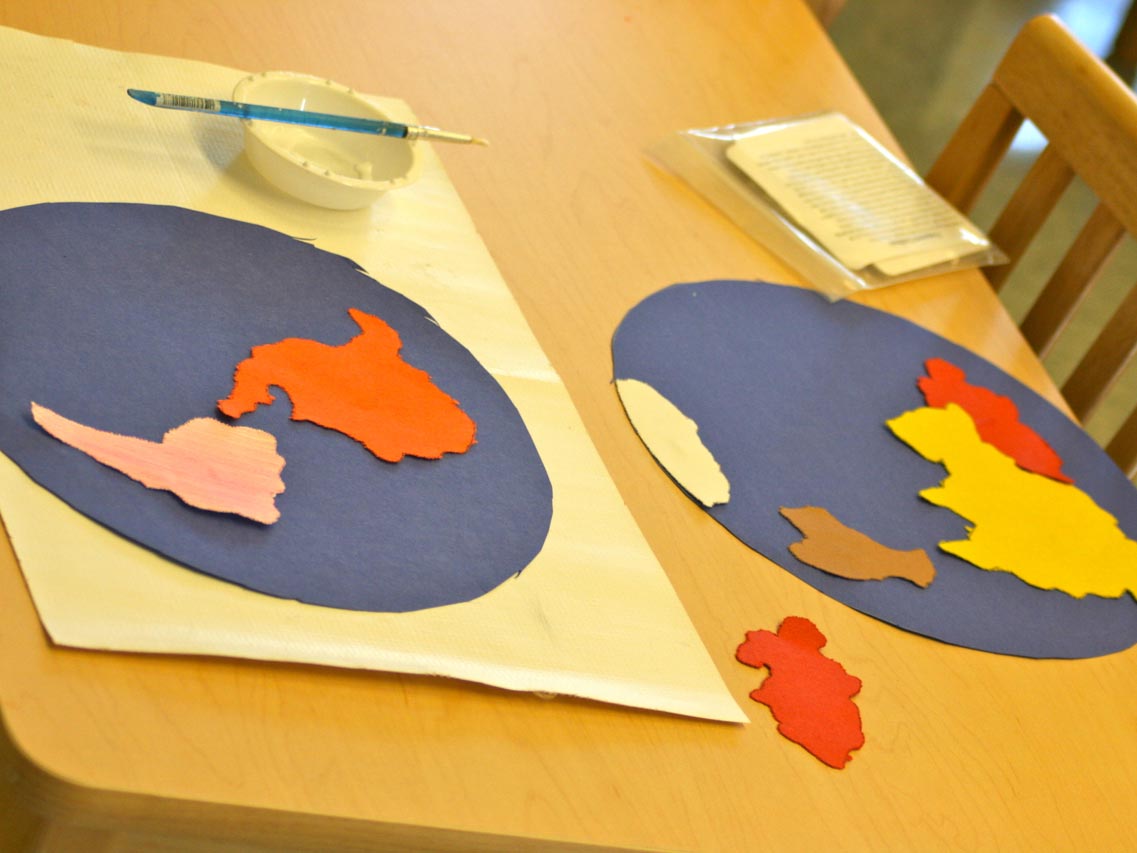 Creativity happens throughout the Montessori classroom experience; it's not relegated to art class. When you visit a Montessori preschool classroom, you'll find artistic expression everywhere. Fine art prints may be displayed along the walls, at the children's eye level; books available for reading are illustrated with high-quality drawings. A 3-year-old may be cutting colored pieces of paper, and assembling them into a mosaic in the practical life area; another may be painting at an easel outside; yet another may be filling in geometric shapes with colored pencils in the language area. A 4-year-old may be carefully painting a map of the world with watercolors as part of her exploration of geography; another one may be working near the kitchen, arranging flowers for all to enjoy. A 5 1/2-year-old may be making a book about a recent trip to a tide pool, illustrating the creatures he saw, and writing about them, combining art with language skills and science. By elementary school, art becomes more sophisticated, but remains integrated into the classroom experience: children may draw a timeline of life, illustrate a research report on penguins with beautiful drawings, or apply their skills in perspective drawing as they research famous architects and the history of how people met their needs for shelter through the ages.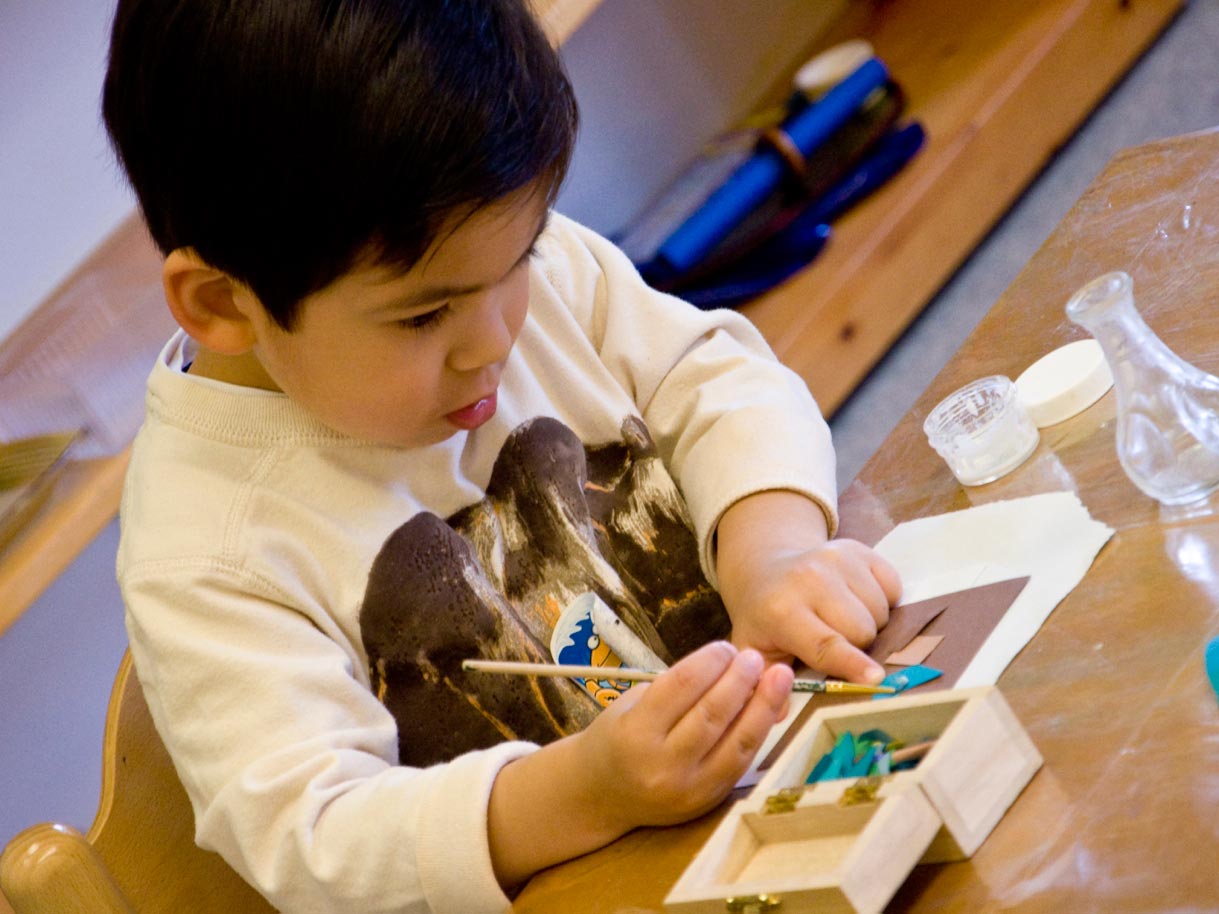 Montessori encourages children to express their own unique ideas, instead of completing adult-directed projects. In a traditional preschool art classes, children typically work on and complete adult-designed art projects: Every child makes a turkey project at Thanksgiving, or a flower out of some crafts materials for Mother's Day. The teacher provides the same materials to all children, and directs them on how to complete the project: the sky in the picture has to be colored in with blue water color; the fish in bright crayons, and so on.
In a Montessori preschool classroom, in contrast, children are free to create their own art, following their own interests. They paint what they want on their easels. They draw pictures that interest them and write about them. They make collages from cut papers that express their view of what looks pretty together. Maybe more importantly, children have the freedom to be artistic when they feel drawn to art: all art materials are available all day long, and are always ready when the inspiration strikes! Others may be drawn to music, or to beautiful words, and pursue those interests. In Montessori, it's all about the self-generated process of exploration and expression, not the product; it's about allowing the individual child's creativity energy to develop, not about producing a standardized art project to take home for parents to admire. (The outcome of such creative work, of course, is often a product to be admired by peers and parents.)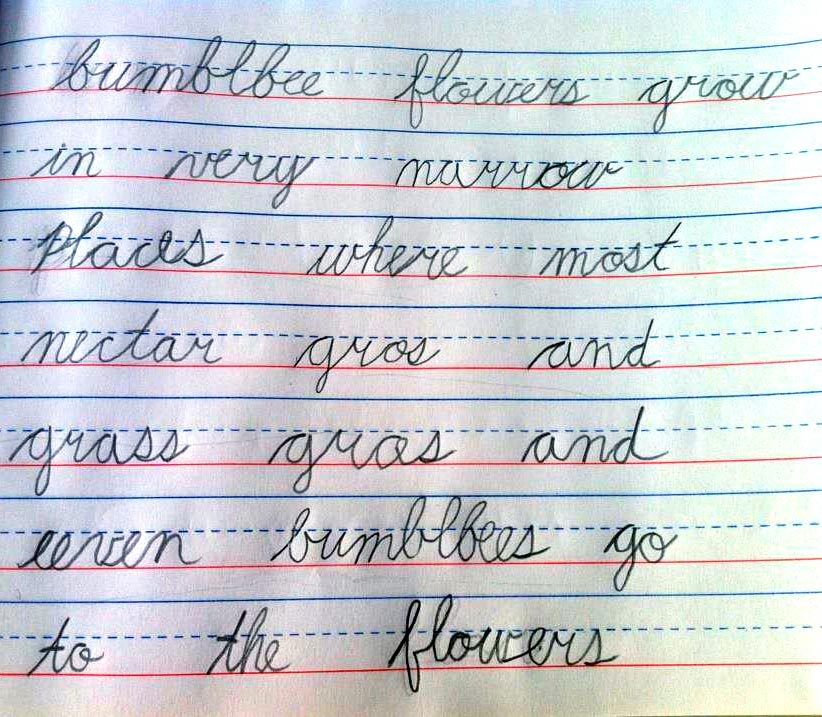 Montessori children master the skills and knowledge they need to be creative. To be truly creative, children need to master essential skills, and build a solid foundation of knowledge.
Writes Po Branson in a recent Newsweek article about the decline of creativity: "Researchers say creativity should be taken out of the art room and put into homeroom. The argument that we can't teach creativity because kids already have too much to learn is a false trade-off. Creativity isn't about freedom from concrete facts. Rather, fact-finding and deep research are vital stages in the creative process."
Take one example: To become a compelling writer, children need to acquire a breadth of vocabulary, a firm command of grammar, the knowledge of meaningful things to write about, and the skills to put words together on paper in a compelling structure, in order to express their ideas. In Montessori, from preschool through middle school, we help children learn these skills and to apply them in practice, from a young age. Preschoolers learn neat, cursive handwriting—so they can then write stories, not complete fill-in-the-blank worksheets. Elementary students research a historical period that interests them—not to passively bubble in a standardized test, but to write a research report, which challenges them to apply both the historical knowledge they gained, and the grammar and vocabulary they studied.
Throughout, the Montessori curriculum doesn't conform to drill-and-kill standardization, but strives for cross-curricular integration, and an application of knowledge learned to real projects, the type of approach which fosters the divergent, integrative thinking needed for truly creative work! Montessori teachers integrate history and math as children bring out three thousand-chains to better understand what 1,000 BC means. Elementary school students learn about the animals of South America or the constellations in the sky by drawing them. They sing about the parts of speech or the 50 United States. They use math in cooking, in sewing, in carpentry projects, in school or at home. In Montessori, knowledge is never merely about tests: it's always about using one's mind to understand the world, to make sense of it and to successfully live in it! Transfer (the application of something learned to new context, which is often lacking in traditional education) is built into the foundational approach of Montessori education.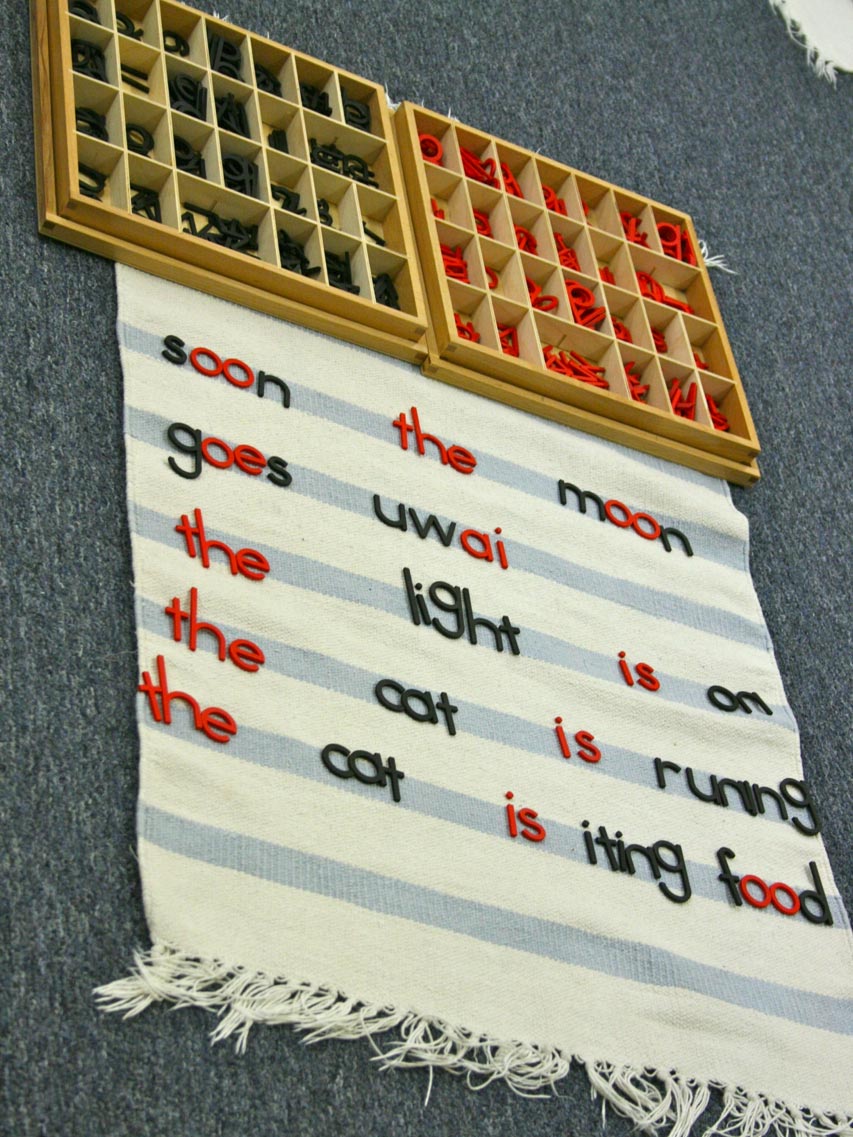 Montessori children learn to follow their interests, not to conform blindly to extrinsic expectations.  Nothing stifles creativity as being told, every hour of every day, what exact standardized content you have to memorize for the next text, and being measured, constantly, against some arbitrary measure of performance set for your grade level! In order to be creative, we must first and foremost be unique, be individuals with our own take on the world, be curious about how things work, and how to make them better, and be confident in our own abilities to succeed in this world.
In a Montessori classroom, we adhere to the "follow the child" principle: In all we do, we look to bring out your child's unique potential. Instead of making all elementary school children write about butterflies in spring, we notice a little boy who loves dinosaurs, and encourage him to write, draw and read about T-Rex and Pteranodon and Triceratops. Instead of grading essays with letter grades on a curve, which focus a child's work on our approval and his performance relative to his peers, we provide detailed, one-on-one feedback on how each child can improve his own work, and encourage children to. edit each other's work, such learning by teaching. Instead of pushing a barely six-year-old not ready for elementary work up into first grade, or holding back a precocious 5 year old eager to take on greater challenge, we protect each child's creative potential from harm by giving him an extra half-year in Montessori preschool/kindergarten, or sending him to visit the elementary room a half year early, so that he encounters new work when he is able and excited to meet them joyously.
The most profoundly creative act of a child is that of constructing himself into the unique human being he will be. And, as Peter Davidson put it compellingly, Montessori is the best environment for this essential process of self-creation, on which all later creativity rests:
The entire [Montessori] environment was designed to allow for that most creative of all acts—the self-construction of each individual child according to his/her own pattern and pace. That essential creative act, which began at birth and continued throughout their early childhood as they learned to walk, and speak, and care for themselves, continues here unabated in an environment full of the raw materials of self-construction and with the time and freedom to do this important work.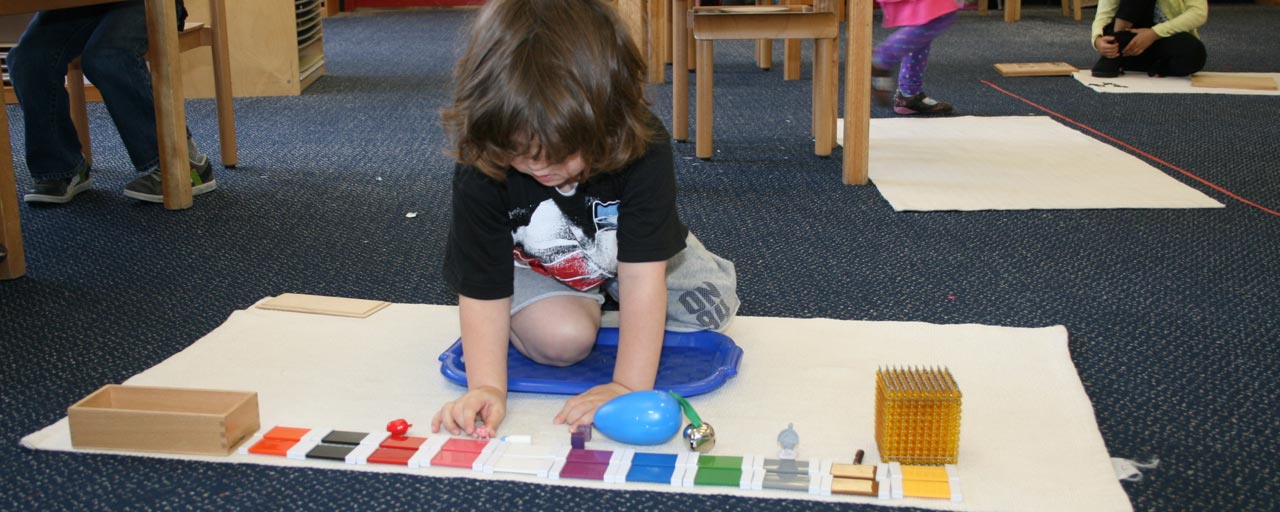 https://www.leportschools.com/wp-content/uploads/2013/07/1-montessori-preschool-palos-verdes.jpg
512
1280
Heike Larson
/wp-content/uploads/2017/07/leport-montessori.png
Heike Larson
2013-06-12 11:35:33
2017-09-12 09:00:13
In Montessori, True Creativity Forms Below the Surface